At Metahotel, our raison d'être is ambitious: We want to change the mindset of hotel management and hotel staff, putting people and talent in the foreground.
We introduce an employee-centric philosophy to hotels, which shakes up concepts: for us, employees are collaborators and managers are leaders; we don't like to offer work, we attract talent; we don't believe in training staff, we achieve a win-win growth for professionals, we don't give orders, we drive well-being. In short, for us, Human Resources are People Development.
Our raison d'être at Metahotel is ambitious: "To change the mindset of hotel management and the hotel professional, promoting the prominence and talent of human capital".
We hope to incorporate a philosophy in the hotels Employee Centric, which alters concepts, moving from from employee to collaborator, from boss to leader, from offering work to attracting talent, from staff training to win-win growth for the professional, from mandate to well-being, in short, from Human Resources to People Management.

We are executive coaches that specialise in promoting talent, leading from awareness and creating culture in hotels. For this journey towards productivity and emotional well-being, we boast a team of unbeatable professionals and excellent people with more than 30 years of experience in hotel management and operations.
At Metahotel, we implement corporate strategy in hotels through awareness, leadership and behaviour alignment.
Moreover, we encourage employees to add value to the company by being more involved, creative and maintaining customer service consistency. Together, both approaches guarantee an improved customer experience.
Our goal: to achieve our purpose by also making life easier for those who manage hotel chains and hotels..
Medium-term vision (2025):
To continue being the benchmark for hotel coaching, people leadership and talent development in medium-sized and large hotel chains in Spain.
To give public recognition to the "Metahotel Credential" obtained by clients.
To be present in at least three more countries.
We are known for our actions being COHERENT with our values. This gives us credibility to pass our commitment and sustainability onto our clients. These are the values we relate to:
People-driven business orientation.
Systemic approach valuing diversity.
Striving for a win-win in our interactions with clients and collaborators.
Humility-driven excellence through constant client feedback.

Humour and conveying enthusiasm.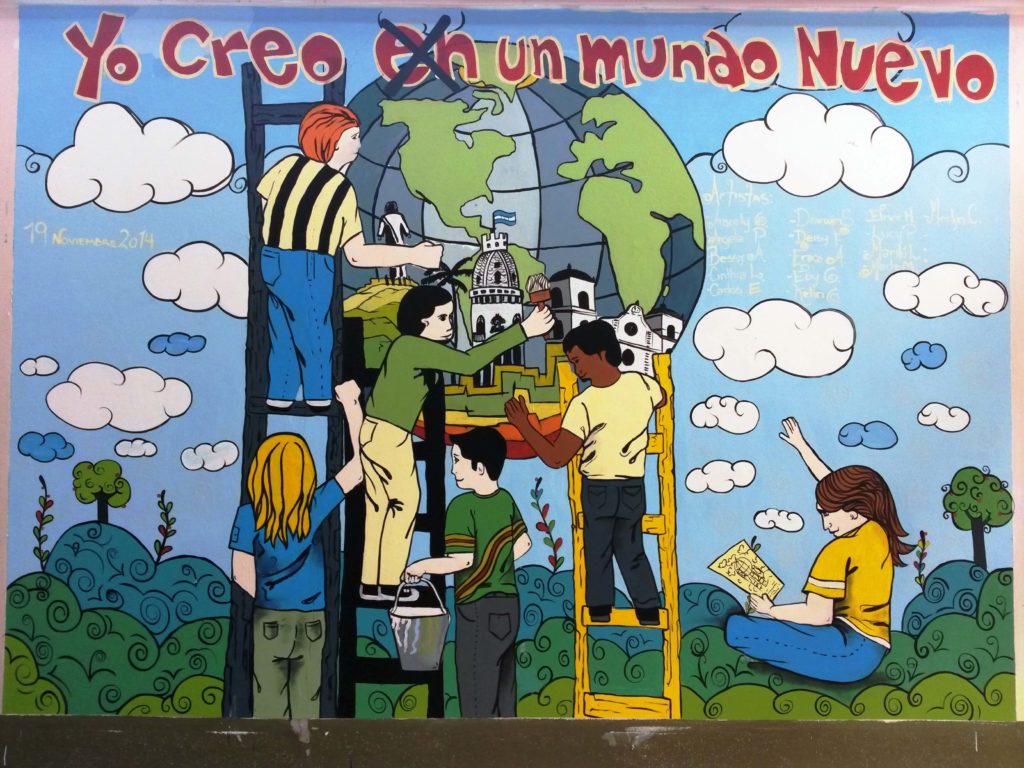 Mural painted by pupils at a Cooperación Honduras school in Tegucigalpa
At Metahotel, we are driven to create a better world. That is why we are committed to the UN's Sustainable Development Goals, particularly goals 1, 3, 4 and 10.
Not only do we undertake sustainable and healthy practices, we also donate modestly.
We donate 1% of our profits to one of the following NGOs: